Batty and Biggers put 'Comic Shop News' on the block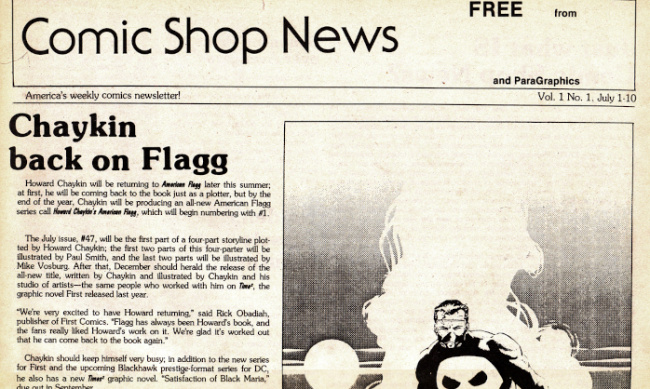 The first "Comic Shop News", from 1987
Owners Ward Batty and Cliff Biggers will announce that after 35 years in business, they are putting their publication Comic Shop News on sale in the issue that hits comic book stores September 7. Comic Shop News is a free fan publication sold to comic book stores in batches of 90. "There's no way we'll be closing it, but with the changing landscape of the industry, we feel the best opportunity for CSN continuing to thrive could be under a new owner," Batty said during the announcement.
The publication has reached remarkable milestones in its long history: more than 2,000 weekly issues published and 175 million copies sold, without ever missing a deadline.
Comic Shop News is designed as a promotional tool for comic book stores, with what they describe as "an upbeat and unbiased manner", offering retailers "a promotional ally with a proven track record, … alerting customers to the comics they otherwise might not have heard of". The company also operates a website where its CSN Spotlight feature features the cover story of the week as well as artwork that doesn't fit in the print edition. The publication has always been and remains profitable, the owners said.