Collingswood Comic Shop Secret Origins is preparing a new window display for the holidays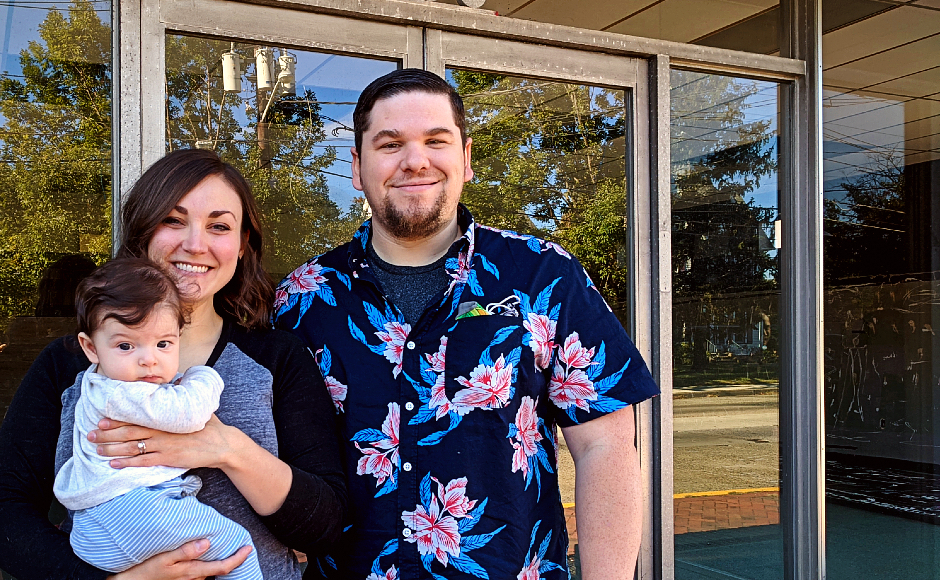 Bill and Miranda Haas say the new location will allow them to expand their product inventory, host in-store events with creators, and introduce tabletop games, among other new offerings.
By Matt Skoufalos | October 5, 2021
In 2019, when Bill and Miranda Haas opened their boutique, independent comic book store Secret Origins in downtown Collingswood, the couple were looking for new pedestrians to support the fledgling business they had started in Barrington.
Moving from a small storefront on Clements Bridge Road to a small storefront on Haddon Avenue, the Haases hoped the bustling, walkable neighborhood would encompass their family shop, which they did.
But when local developer Ingerman agreed to buy their building and several adjacent lots to create a multi-tenant apartment complex, the family – including baby Wyatt, who was born amid the retail downturn in the novel coronavirus pandemic – rushed to find a new store in the town they had come to love.
After months of searching through the limited inventory of commercial properties in Collingswood, they finally settled on 888 Haddon Avenue, the former home of Team Taino MMA and Vitality Fitness.
"We found a place to land, and not only that, it's the most perfect place we've seen so far," said Bill Haas. "It's a clean slate: something to start from and build on.
"The new spot is going to do a lot of what we're doing now, just bigger," he said; "a little closer to my vision of Empire Records with comics.
In its new location, Secret Origins plans to expand into tabletop games, which the pair believe there is demand within the community. The extra square footage will also support expanded product displays, from long boxes of comic book issues to Funko Pop figures to trading card games.
Bill Haas said he also plans to hire additional staff to bring back the Secret Origins Facebook Live/QVC-lite streams, during which he and Miranda auctioned off back issues, special comics with variations of cover, and more.
"We want to do the shows live," he said. "We are doing very well, but we could do better if we had these streams going. We can increase our customer base; [increase] our audience.
The larger footprint of the new store will also create more opportunities for Secret Origins to expand its audience of comic book readers.
With a larger storefront, the store can become one of Ray Oldenburg's "third places" beyond work and home, where the community can gather, share ideas, and interact with neighbors.
Solidifying plans for the new store, the Haases, who founded Camden Comic Con in 2014, want to tap into their list of industry contacts to create special in-store appearances from local and national artists and authors, bringing these creators closer to the fans who support their work.
"It's one thing to pick up your weekly books and leave the building," Bill Haas said. "We want to have things to do for people to maximize their time in the building."
Despite the difficulty of maintaining a physical store in the age of digital retail, the comic book medium is experiencing a recent renaissance amid increased interest from entertainment companies seeking the latest commercial properties to develop in films and television series.
"If you go to Netflix, Amazon, Hulu, about half of the content is a comic book adaptation, or will be in a few years," said Bill Haas. "sweet tooth was huge for Netflix; Umbrella Academy, Lethal class, The Walking Dead, The boys, Y the last man.
"Comics are mined for ideas," he said. "I think it's going to be even more prevalent than it is now. A lot of writers get into comics, and unfortunately they're failed screenwriters and failed novelists. Stan Lee wanted to write the great American novel.
"I don't think some of these people intend to go down those paths, but you can make really good things in comics and then they become culturally significant," Bill Haas said.
Secret Origins will remain at its current location until at least November, with a targeted Black Friday opening at 888 Haddon Avenue. Doing the holiday weekend is ambitious, but it's also in line with an internal anniversary for the company (each of its previous locations opened on Thanksgiving weekend).
"It's like a weight lifted off my shoulders," said Bill Haas. "Instead of figuring out how to survive the holiday season, we have to figure out how to open this place for the holiday season.
"It's a good place to be," he said.
In the meantime, the couple will continue to work on fitting out the new space in a theme that Bill Haas describes as "modern [with] a touch of rustic. Plans include new laminate flooring, fresh paint, new displays and wider aisles for shoppers.
"The boutique feel of 554 Haddon keeps us from having a lot more stock on the floor," he said; "Here, we won't have those restrictions.
"We are happy to stay in Collingswood," said Bill Haas. "We wanted to come here to Collingswood in the first place. It has always been our dream. I'm over the moon about this.