Comic book store in Oswego, New York, to close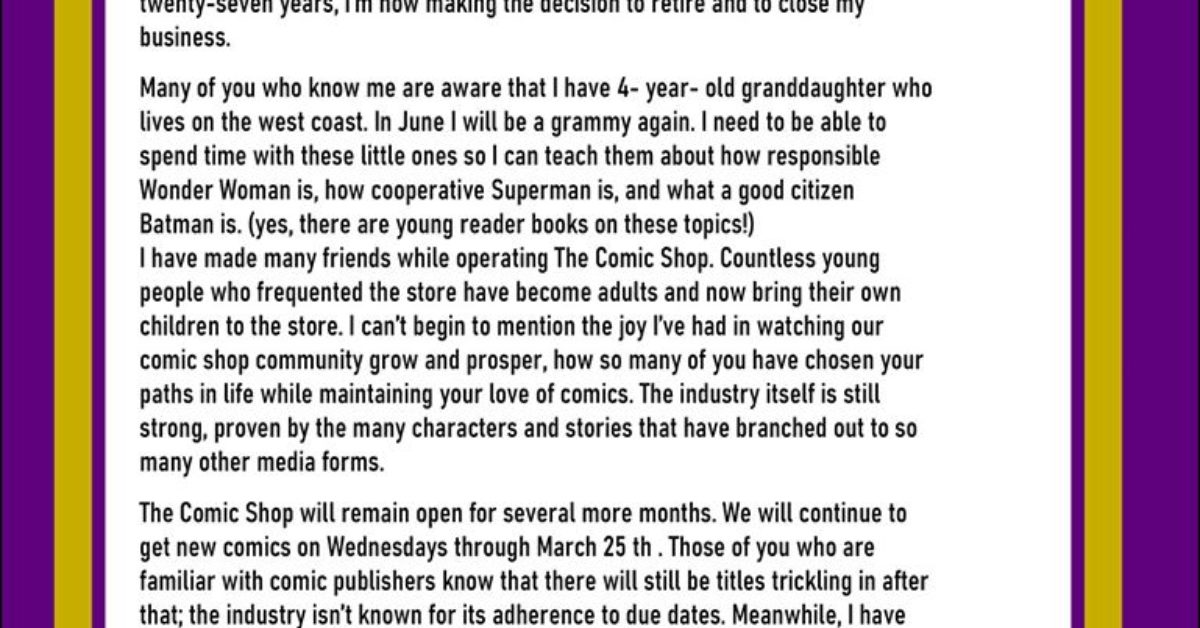 The owners of The Comic Shop in Oswego, New York, have announced that they will begin closing the store within the next few months. Their liquidation sale will start in February and they will still have new comics every Wednesday until the end of March. Co-owner Arlene Spizman posted the following editorial on Facebook.
In the late fall of 1992, DC Comics made the decision to "kill off" one of their longtime characters, Superman, and decided to open The Comic Shop in Oswego. As with most comic book deaths, Superman was resurrected, but with the increased pop culture awareness, as well as the acquisition of a huge collection of over 10,000 comics through my company of antiques, I was motivated to go from antique dealer to comic book store owner. However, after serving our community for over twenty-seven years, I am now making the decision to retire and close my business.

Many of you who know me know that I have a 4 year old granddaughter who lives on the west coast. In June, I will be Grammy again. I need to be able to spend time with these little ones to teach them how responsible Wonder Woman is, how cooperative Superman is, and what a good citizen Batman is. (yes, there are books for young readers on these subjects!) I made a lot of friends running The Comic Shop. Countless young people who used to frequent the store have grown up and are now bringing their own children to the store. I can't begin to mention the joy I've had watching our comic book store community grow and prosper, how many of you have chosen your path in life while maintaining your love of comics. The industry itself is still going strong, as evidenced by the many characters and stories that have branched out into so many other forms of media.

The Comic Shop will remain open for several more months. We will continue to receive new comics on Wednesdays until March 25th. Those of you familiar with comic book publishers know that there will still be titles coming after this; the industry is not known for meeting deadlines. Meanwhile, I have a lot of items for sale, so on February 1, I'll start marking up existing inventory, running special sales, bringing my own hidden items, and hoping you all take advantage of the prices from sale to add to your collections. I have enjoyed meeting all of you, getting to know you, sharing thoughts, opinions and family stories over the years. I appreciate your loyalty to buying locally and supporting The Comic Shop in any way you can. I've been blessed to have Martin Kinney as my manager for almost 25 years, and Brian "Da Sunday Guy* for almost as long. And for all of you who have supported our local comic book store: I wish you all the best a new chapter in my life!
Bleeding Cool attempts to mark the passing of comic book stores as well as newcomers to the scene. We're more likely to hear about the former than the latter due to concerned fans, but please let us know of any changes in your own local market. Contact richjohnston@bleedingcool.com to inquire.