Comics to benefit Beebe at Jawsfest on August 20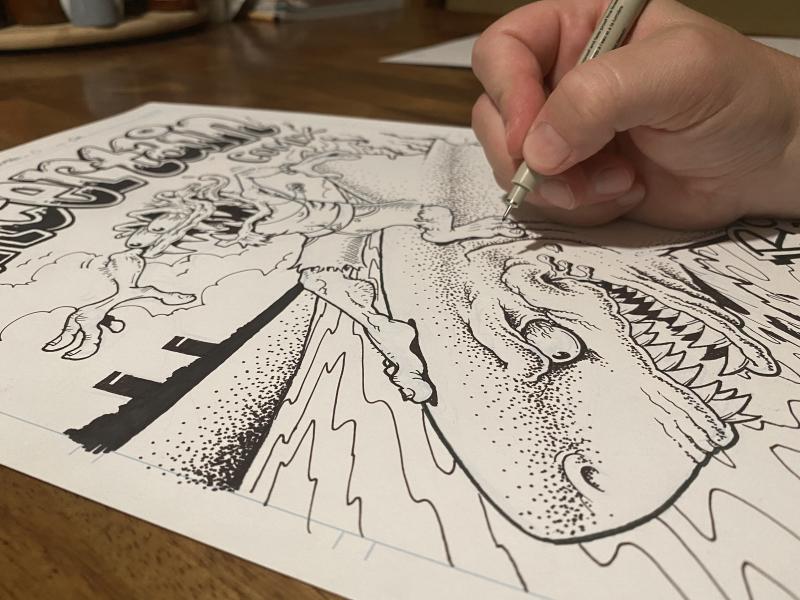 A great white shark won't be the only thing to cause a stir at Revival House's Jawsfest. Local artists are taking on the Blue Line Challenge to help raise money for frontline workers at Beebe Healthcare.
The collaboration began with a conversation between Fred Giovannitti of Ink & Energy Tattooing and Justin "Ogre" Sinnott of Ogre's Grove. Sinnott has seasonal art exhibits at his comic book shop in Milton, but he hasn't been able to host a reception since the pandemic began. When he told Giovannitti that Ogre's Grove would be sold out at Jawsfest, Giovannitti pointed out that it would be a great opportunity to showcase artists who haven't been able to share their work in their usual venues.
Giovannitti is an internationally acclaimed local artist and inventor with over two decades of experience producing artwork in multiple mediums and developing innovations to help clean up marine ecosystems. Learn more about him at www.inkandenergy.com.
Having collaborated with many different artists using varying styles in the past, Giovannitti looks forward to seeing what artists in this field will create using the materials he provides – an 11-inch comic art board on 17 inch which includes free blue ink photo lines to help layout a comic book page. Whether attendees decide to create signs or a large image, each piece will provide a unique way to remember Jawsfest.
Donated artwork will be displayed at a silent auction at the Ogre's Grove booth. Fundraising begins at 6 p.m. Thursday, August 20 at Hudson Fields. To find out how to enter, go to www.ogresgrove.com.