Funny Pages magazine – confidential comics. Film review by Nick Hasted
From this bedrock of delirious artistic struggle, grotesqueness and hurt, debut Safdies associate Owen Kline carves out a sickening slice of observational tragicomedy.
Its milieu is a very personal comic book subculture hardly seen in movies since Crumbwhere Peter Bagge and Dan Clowes (ghost world) paralleled the breakthrough of grunge by chronicling losers who hate each other, and Canada's Seth fetishized the dark art of the past with a proud, lonely soul. The taboos are here, and the individual style unmistakable and prized.
With these examples and the praise of his gonzo art teacher prodding him, Robert renounces his parents' privileged life in Princeton and dives across the Jersey slopes into the world's worst basement apartment. Boiling when it's not cold, he's shared with quirky but picky landlord Barry (Michael Townshend Wright), unannounced roommate Steven (Cleveland Thomas Jr.), and a sprawling fish tank, presumed dead pool tenants. His bohemian years of struggle began.
Dauntless Robert diligently develops his comics, funny and obscene animal comics that mix the loud porn of early 20th century Tijuana Bible mini-comics with Disney lineage. He also furiously sketches the dreams of the caricaturists around him. At the same time working for an affable lawyer, he meets Wallace (Matthew Maher, pictured above), a clearly deranged, self-loathing loose cannon but with a past on the lowest rung of professional comics. Robert has inevitably found his new guru.
Owen Kline is steeped in Robert's moist, artistically rich world: comic book stores, insider knowledge, sardonic posturing, and fetishized vintage items, forging identities outside of the straight world. Growing up in New York with movie parents, he starred in Noah Baumbach's The squid and the whale as a child, and met the Safdies when he was 15, working on their films in various capacities. Comics were his failed dream, ever since he sent a cartoon of funny animals to a 12-year-old newspaper syndicate, hoping to share the funny pages with Peanuts. His film is "built from a personal fabric".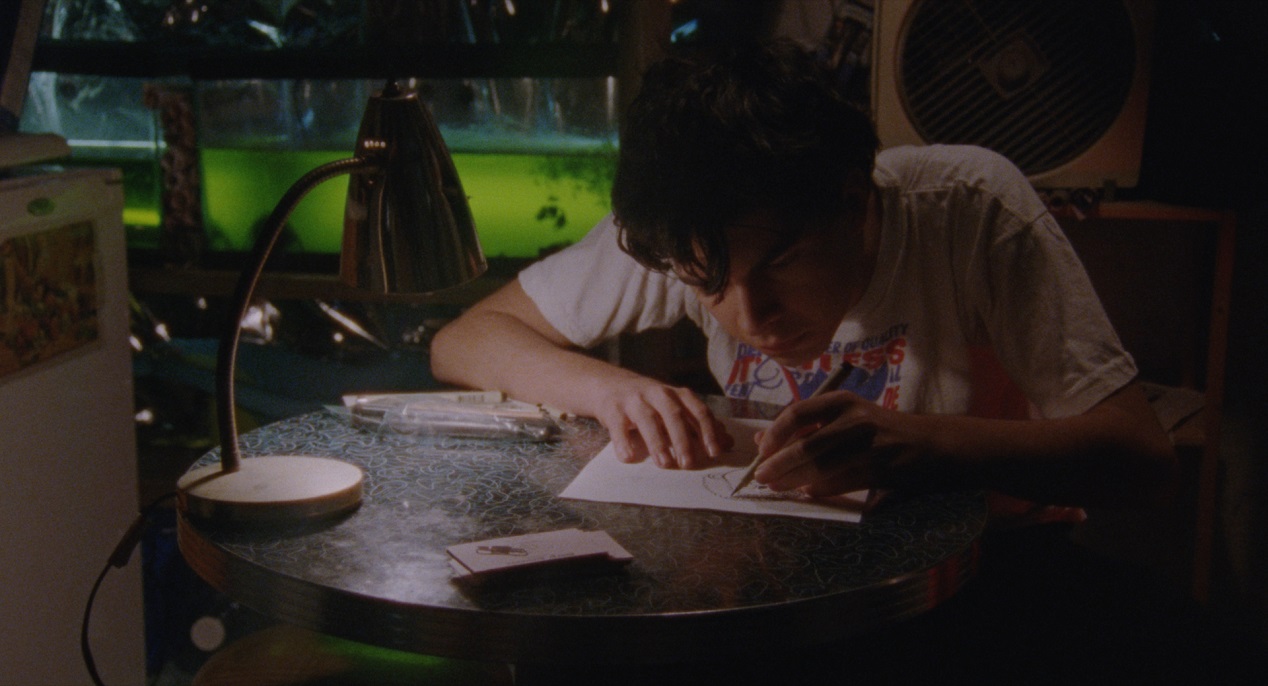 Staying within the circumscribed and magnetically odd culture of Robert gives funny pages its own hermetic force. Co-cinematographer Sean Price Williams (a favorite of the Safdies and another accurate New York portraitist, Listen Philip(Alex Ross Perry) shoots handheld close-ups of these sweaty grotesques, bringing us to life in a Bagge or Drew Friedman comic strip, shot in gritty '70s-style Super 16mm you can almost touch.
Jet-black comedic backdrops pepper Kline's script, but her cast's engagement lends emotional truth to her parade of losers and societal malcontents. Zolghadri's Robert is less mature or capable than he thinks, thoughtless in his satirical drawings and his life, innocent but hurtful. Madly confident, he carries the unspoken wound of the end of his support as an art teacher, which Kline charges with absurdity and sudden violence, putting funny pages' extreme tone, human enough at the start. It is a small film about a small but significant world, of feverish authenticity.