Going to San Diego for Comic-Con? Avoid price spikes with public transport options from the airport to downtown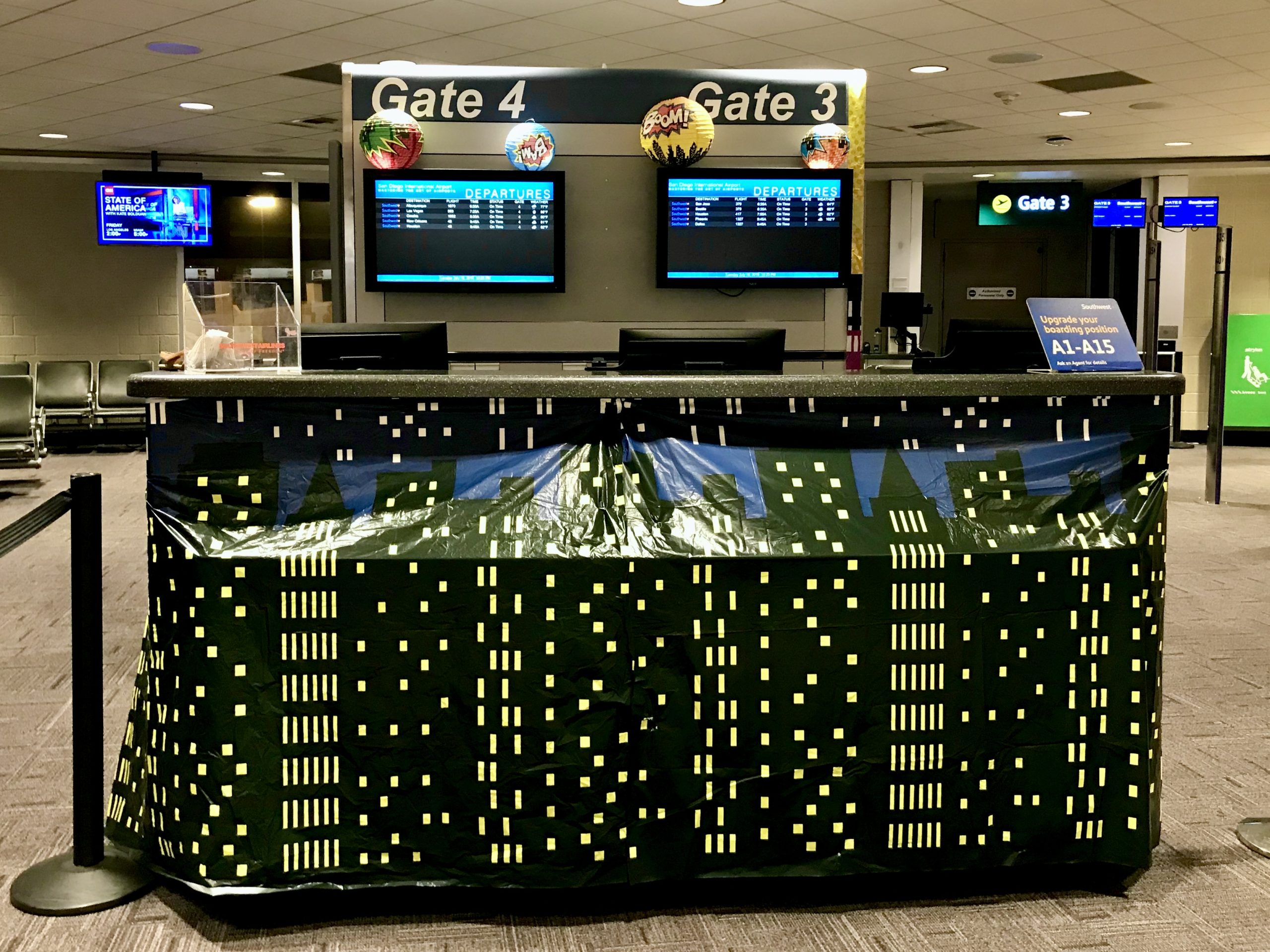 Will you be heading to San Diego in July for Comic-Con? Depending on your flight arrival time, you may be looking at a high price for commonly used carpooling programs. Taxis are the old standby, which we'll also cover below, but San Diego's public transit system offers several other options to get you to your hotel for just a few dollars.
Are you flying southwest? Construction of Terminal 1!
Before we get to transit options, a quick note on airport construction: Most Southwest flights use San Diego Airport's Terminal 1, which will be under construction starting this month- ci with the construction of a new car park. If you are arriving by air at Terminal 1, be sure to follow the new transit signs to get to bus, taxi and shuttle pick-up locations. More details on the construction of San Diego Airport at SAN.org.
Free shuttle to Old Town tram station
Last year, the San Diego County Regional Airport Authority introduced the San Diego Flyera free electric shuttle service between the airport and the transit center in the old town.
San Diego Flyer shuttles operate seven days a week and run every 20 minutes from 5:00 a.m. to 12:30 a.m. the next day. Download the full program from Leaflet. The shuttle stops at Terminal 1, then Terminal 2, then heads the 4.5 miles to the Old Town Transit Center, which takes approximately 15 minutes. At the transit center, you can take the green line streetcar towards "12th & Imperial" and get off at any of the convention center stations that suits your hotel. The trip takes about 20 minutes and costs $2.50 one way. See the Trolley section below for more details on free rides for kids.
MTS Bus and Trolley
The San Diego Metropolitan Transit System (MTS) offers free rides on its 992 bus route from the airport to downtown, through Labor Day. The drop off point is on Broadway & 3rd, near the Balboa Theatre. The bus runs every 15 minutes and the journey to the city center from the airport takes around 20 minutes. It's your quickest option, even with the walk to the convention center. (But not easy with a lot of luggage!) You can see the full timetable for bus 992 on the MTS website.
Reader David C. points out that the free shuttle from the airport to the rental car center will drop you off very close to the Middletown light rail station – about a half mile walk – which is a shorter light rail ride to the city center than from the old town. The Rental Car Center Shuttle operates 24 hours a day from the airport and is also an option if you find yourself with high prices for carpools. The shuttle drop-off point may offer lower pick-up rates.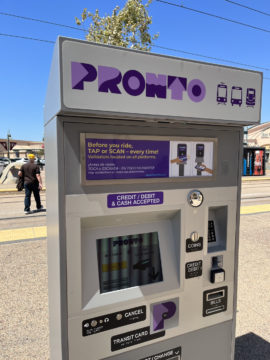 Tips for Using MTS Transit: MTS recently changed to using kiosks and the PRONTO app for tickets. Be sure to download the app in advance or load your Pronto card if you're using the San Diego bus or streetcars. Cool off on the "How to rideguide on the MTS website.
Children travel free: If you're traveling with someone 18 or younger, they're free to ride the public transit system when they download the Pronto app for MTS ticketing. Get more details on the Youth Pass page. Children 5 and under are free to ride at any time.
Even if you don't use the cart from the airport, you can still purchase a 4-day pass for Comic-Con dates. Staying at the Hyatt but want to head to the Petco Park area? Cart.
Unfortunately, MTS won't have themed tickets like previous years due to token shortage, but hopefully next year!
Taxis
If your ridesharing app is showing skyrocketing prices, but you don't want to bother with public transportation, the old backup taxi will be the way to go. The San Diego Airport website has a list of taxi companies that pick up at the airport.
Fares will be displayed at the taxi door, and all companies accept credit cards. yellow cab, for example, has base charges of $2.80 and $3.00 per mile. A rate of approximately $25 before tip is expected for a deposit at downtown hotels.
Pedicab
Definitely not a method to pick up at the airport, but downtown Pedicabs are now more regulated by the city and must carry insurance and pass inspections. They work well for covering short distances after a long day on your feet, and they're a great way to take in the sights at Comic-Con. Plus, hopefully they'll have TV or movie-themed branding this year as well!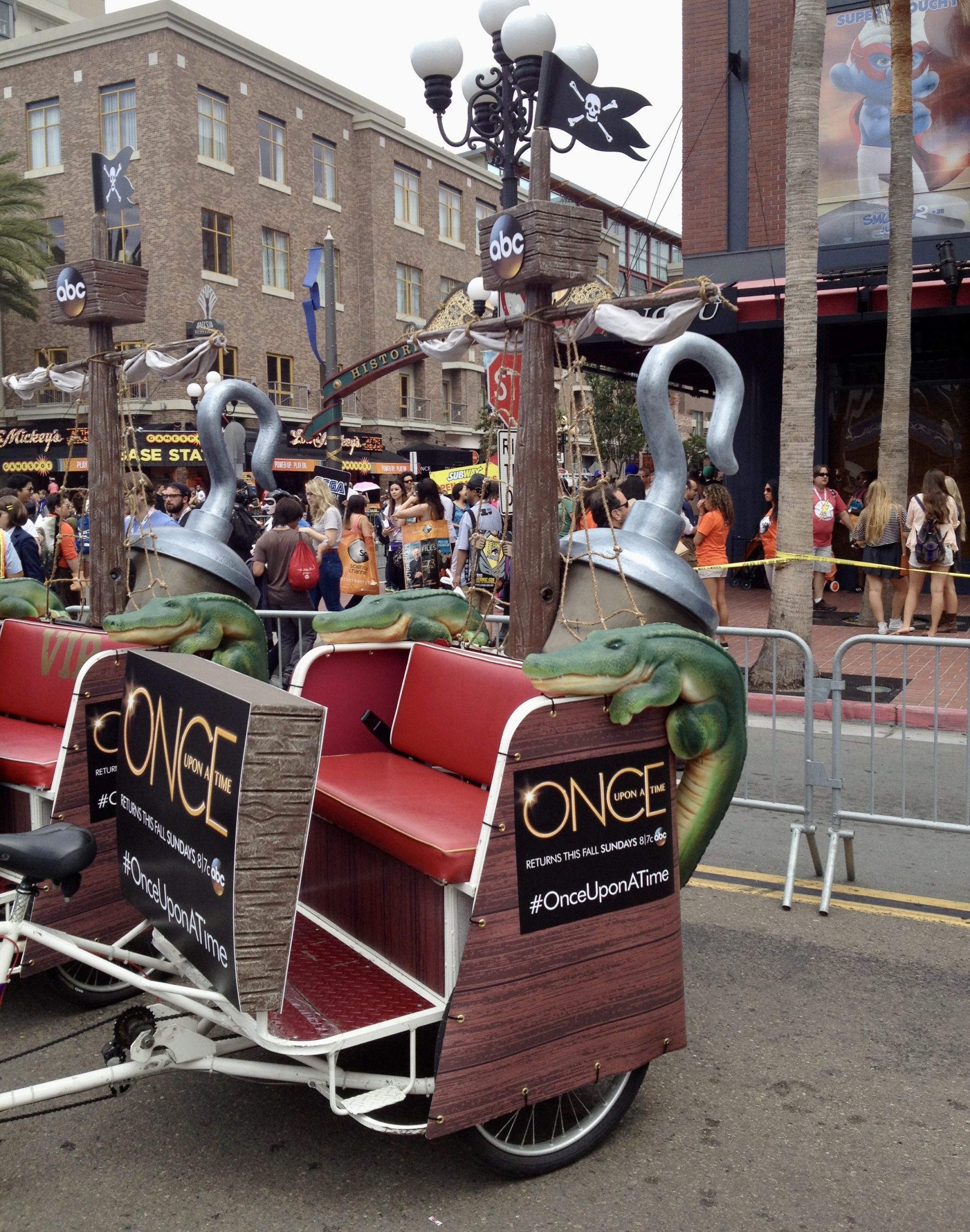 How do you like to get around San Diego Comic-Con? Leave a comment below!