Johnny Weir calls Valieva Fall "the destruction of a young person"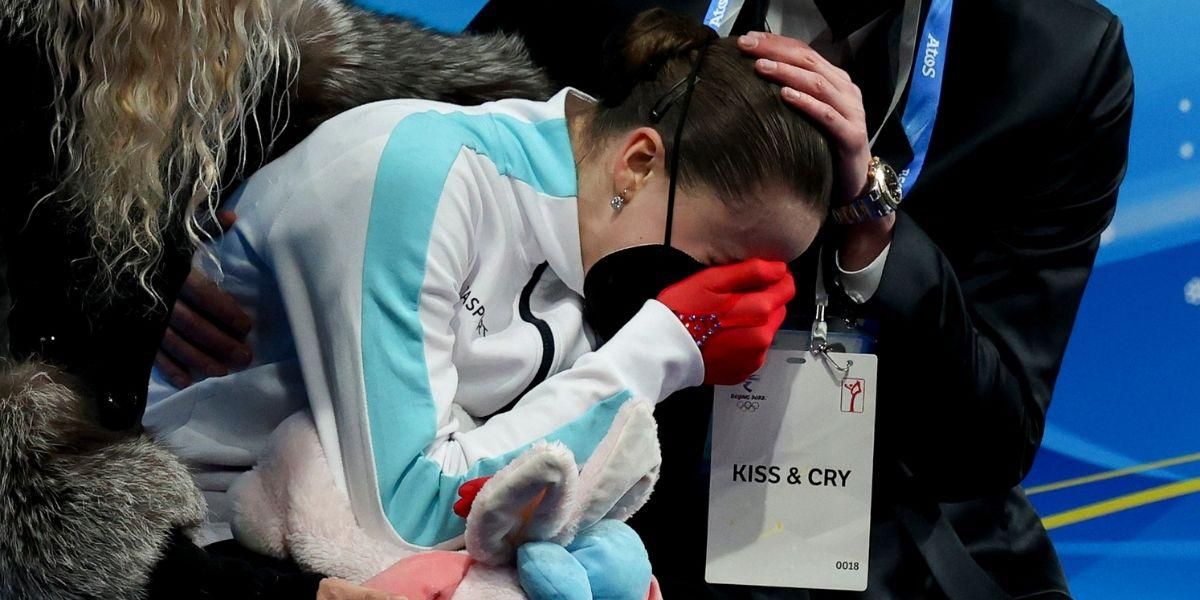 Former Olympian and Olympic commentator for NBC, Johnny Weiercondemned the controversial decision that allowed beleaguered skater Kamila Valieva to compete on behalf of the Russian Olympic Committee (ROC) at the Beijing Winter Olympics after she tested positive for a banned cardiac drug intended to boost sports endurance .
When Valieva failed to medal, dropping from first to fourth place, after tripping twice during her final routine on Thursday, Weir and former 1998 Olympic champion Tara Lipinski offered comments that express the both frustration and sympathy.

Weir described the 15-year-old skater's emotional situation and his inability to make the top three as "the destruction of a youngster".
Valieva has been embroiled in scandal for being allowed to skate in the women's individual event despite testing positive for trimetazidine – a performance-enhancing drug on the World Anti-Doping Agency's (WADA) banned substances list.
The 15-year-old's drug test result was only announced at the medal ceremony for her first team event earlier in the Games.
Still, the Court of Arbitration for Sport granted her the right to continue participating in free skating, citing that Valieva had protected status as a minor.
It's a decision that caused a lot of outrage within the figure skating community.
The International Olympic Committee (IOC) had previously announced that had Valieva placed in the top three, there would have been no medals for any of the winning competitors due to the ongoing investigation into the positive test result. Valieva for the banned substance.
Since Valieva placed fourth, the medal ceremony went as planned.
NBC commentator Terry Gannon said:
"There will be a gold, silver and a bronze in Beijing."
To which, Weir replied:
"thank God."

Lipinski agreed saying, "Thank goodness for all the other medalists to have this moment."
And Weir added, "And doing it properly."

Valieva's participation in the Winter Olympics came to a grim end after her technically ambitious performance gave way to a series of mistakes.
Set to music from Ravel's "Bolero", his routine included three quads – an extremely difficult jumping maneuver involving four rotations in the air – and seven triples.
At first, an adoring crowd cheered her on as she made her way to the ice and performed the routine with grace and poise. But then her confidence plummeted when she tripped twice, one of which landed her on the ice.
When it was over, the emotional athlete buried her tearful face in her hands and Marlet cross the mixed zone without stopping or talking to journalists.
She finished fourth with a 141.93 in the free skate.

After the scores were announced, Gannon said of Valieva:

"And I hope there will be someone to put their arms around this young woman and guide her."

Spillway observed:
"On a human level, I can't imagine going through what she went through. But that doesn't change the fact that she should have been away from this competition.
Weir blamed Russian officials for Valieva's emotional turmoil and overshadowed controversy at the Winter Games, adding that they "should have protected her from this, stopped her from competing here."
In response to the backlash from Valieva's failed drug test on December 25, 2021, ROC Chairman Stanislav Pozdnyakov said in a declaration:
"The results of the team tournament are not subject to review in any way, regardless of the results of the disciplinary investigation against the athlete."
"The anti-doping rules are formulated in such a way that the review of team tournament results can only take place if the alleged anti-doping rule violation occurred during the Olympic Games."
Lipinski, who was Valieva's age when she won gold in 1998, said:
"I can't imagine how difficult it was for Kamila and it angers me that the adults around her couldn't make better decisions."
"She is the one who now manages the consequences. And she's just a teenager and that's not fair. … That being said, she should not have been allowed to skate in this Olympic event.
Valieva's ROC teammates Anna Shcerbakova and Alexandra Trusova stood on the podium during the medal ceremony.
Shcerbakova received gold and Trusova received silver.
Japan's Kaori Sakamoto placed third, earning her the bronze medal.
Weir took to Twitter and posted a video after Thursday's free skate live coverage, which he called a "weird, heartbreaking event I've seen in my entire life."
"I hope this never happens again, but thank you for supporting the skaters. Thank you," Weir said.