NECA San Diego Comic-Con 2022 Exclusives [UPDATE June 2]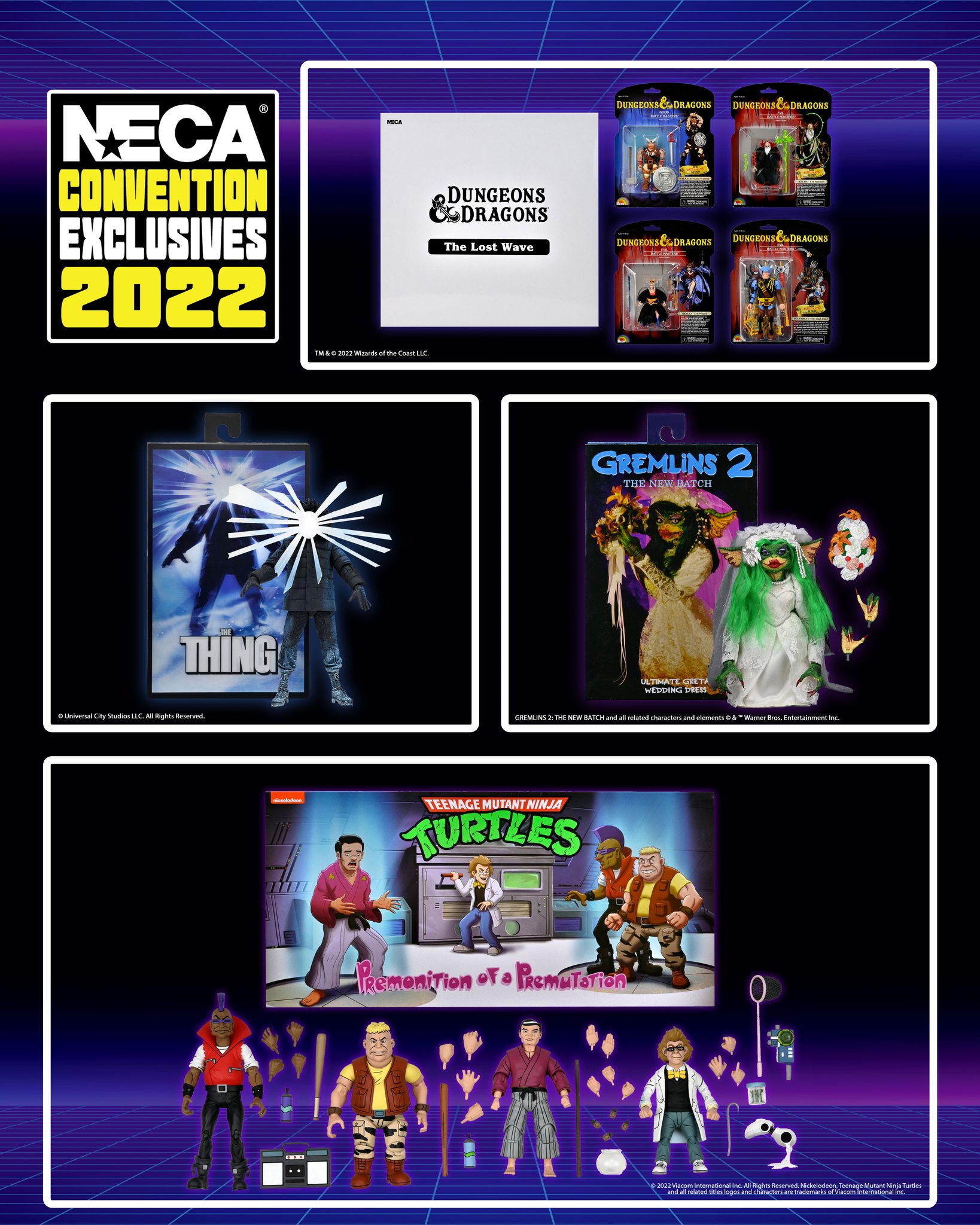 NECA never fails to impress with their ever popular Teenage Mutant Ninja Turtles and Universal Monsters action figures. With plenty of detail and impeccable packaging, NECA exclusives are always some of the most sought after at San Diego Comic-Con.
This year, you will find NECA at booth #3545. [UPDATE June 2] NECA has announced the prices for each of their convention exclusives as well as how those folks at home can score them.
On Friday, June 3 at 9 a.m. PT, they will be putting limited stock in their store. Items will be pre-ordered and won't ship until after San Diego Comic-Con. There is a limit of two per item per customer, and multiple orders will be cancelled.
If you don't want to pre-order for shipping, you can probably just buy in person at booth #3545.
The prices are also shown below, but they are as follows:
TMNT Pre-mutation 4-pack – $150
The Thing 40th Anniversary Poster Figure – $50
Gremlins 2 Greta Wedding – $50
Dungeons & Dragons Lost Wave 4pack – $100
[PREVIOUS]
Here is an overview of this year's exclusives:
[UPDATE May 26]
The man might be the hottest place to hide – and this San Diego Comic-Con exclusive is freezing cold. Today, NECA is bringing fans an exclusive figurine of The John Carpenter Thing. The figure, which stands 7-inches tall and features an LED light in the head, recreates the iconic light burst from the poster. It also comes with interchangeable and removable faceplates, and is packaged in an easy-to-display 5-panel window box packaging, inspired by the movie poster. This figure will be $50.
[UPDATE May 25]
NECA takes you into the world of Dungeons & Dragons today with a brand new column exclusive to San Diego Comic-Con. This Dungeons & Dragons – 4″ Scale Action Figures – Lost Wave 4 Pack presents a set of "lost" Dungeons & Dragons miniatures, reproduced to match the original prototypes that never saw the light of day.
But NECA brings Pulvereye, Skylla, Kelek and Valkeer to life in 4″ scale, with posable figures. Pulvereye, Kelek, Valkeer also feature awesome "Battlematic" action, and the set includes signature accessories and weapons, and an individual blister card for each figure styled like the original figure line. The set of four figures is packaged in an outer box with logo.
This set will be priced at $100.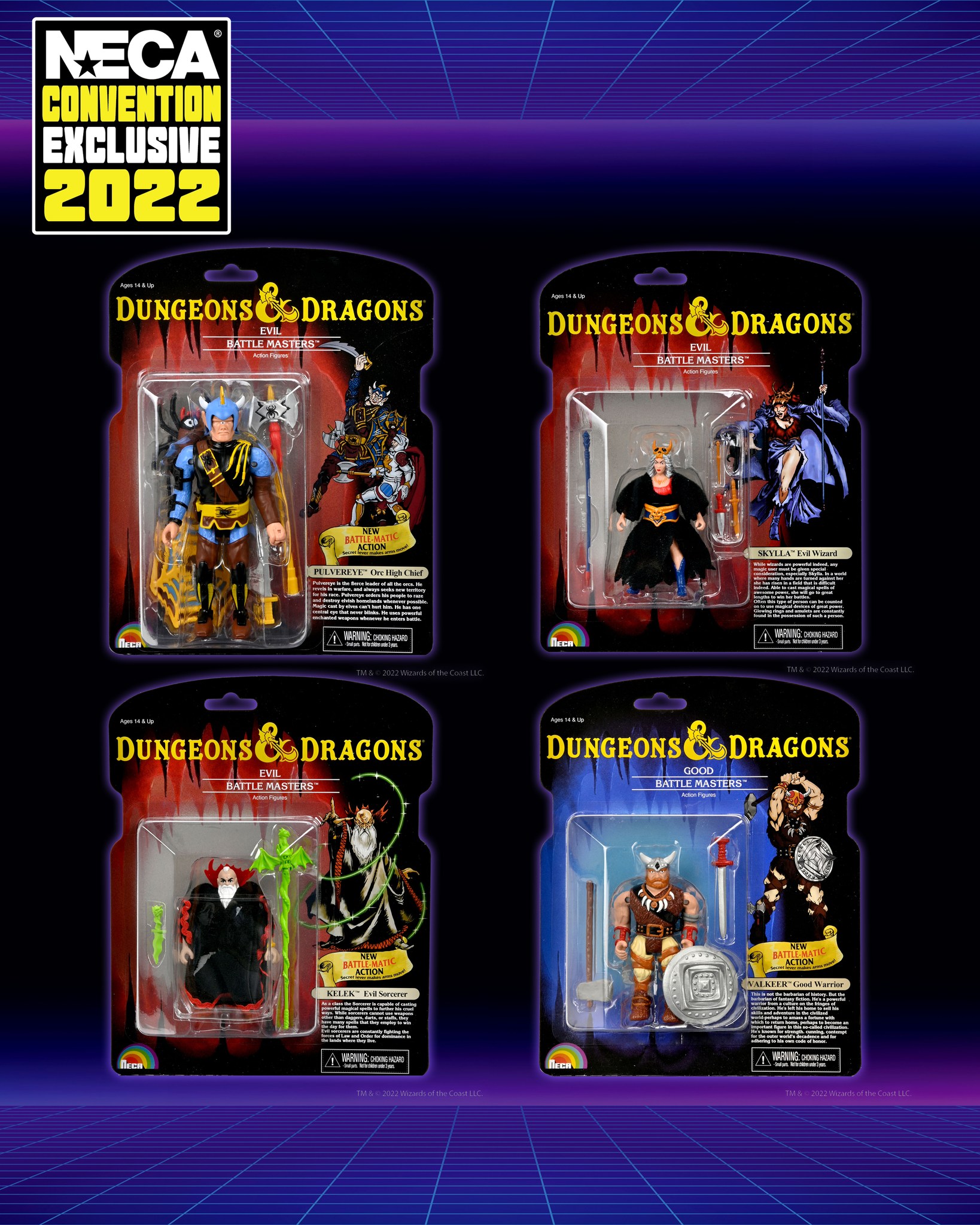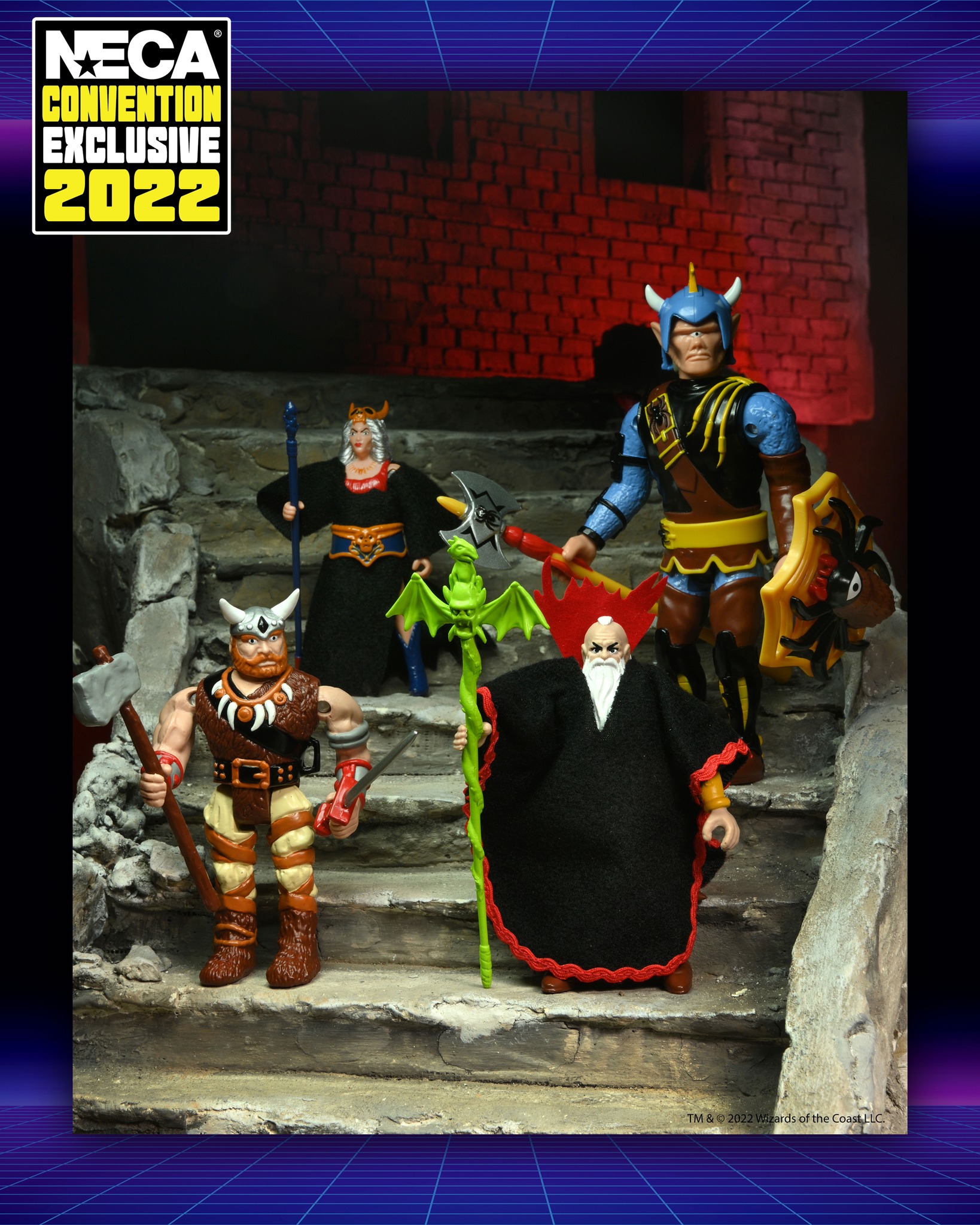 [UPDATE May 24]
NECA's second exclusive San Diego Comic-Con date is a Gremlins 2 7″ Scale Action Figure – Greta Ultimate Wedding. Here comes the bride, like that Gremlin of Gremlins 2: The New Batch stands 6″ tall and comes complete with synthetic hair, fabric wedding dress and veil, interchangeable hands, and bridal bouquet. Everything is packaged in a wedding-themed 5-panel window box packaging.
Greta will cost $50.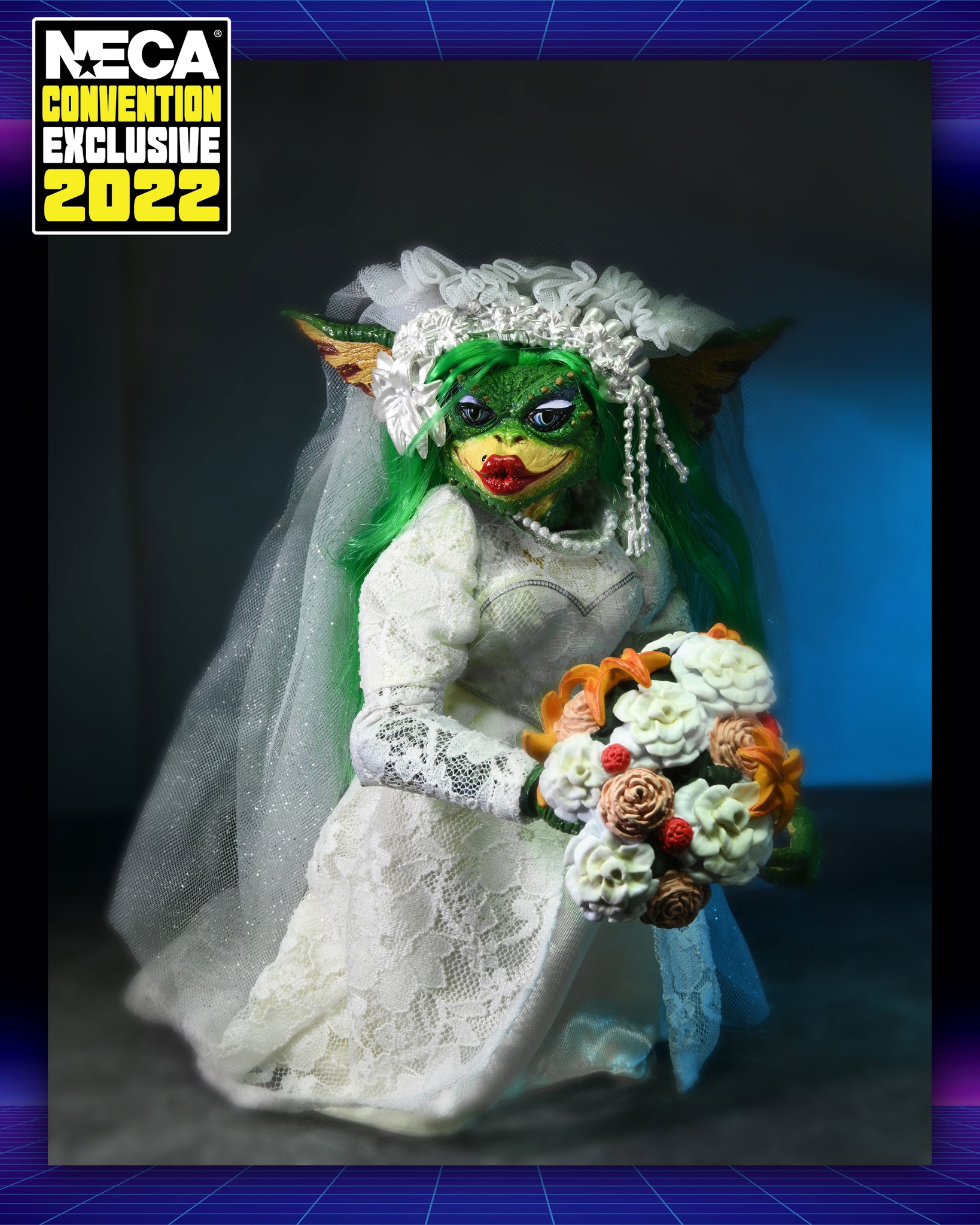 [UPDATE May 23]
First, in honor of World Turtle Day, is the annual NECA Teenage Mutant Ninja Turtles exclusive. This year it will be a Teenage Mutant Ninja Turtles (Cartoon) – 7″ Scale Action Figures – Pre-mutation 4-Pack.
The SDCC-exclusive box set is based on the classic cartoon and includes Bebop and Rocksteady, Hamato Yoshi and Baxter Stockman (making their action figure debut) – all in their human forms. Figures range from 5″ to 7″ in height and feature over 30 points of articulation.
The set comes in deluxe packaging with a user-friendly 5th panel and window box that pays homage to classic home video artwork, and includes accessories such as interchangeable hands, fishbowl, tiny pet turtles Pet, Spray Cans, Boombox, Crowbar, Chain, Butterfly Net, Mouser, and more.
This year's TMNT set will retail for $150.