Ogre's Grove comic book shop to open in Milton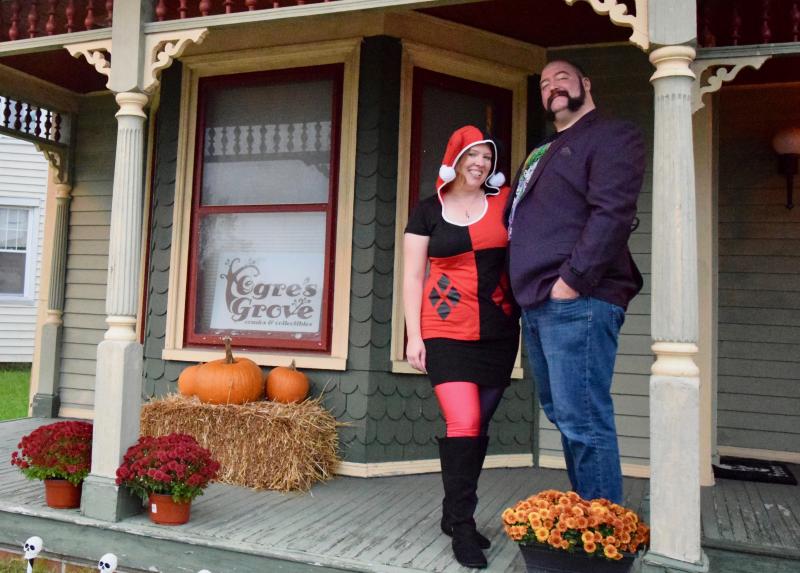 It was 1988 and Justin Sinnott was around 6 years old when his grandmother gave him a copy of Wolverine #2, marking the start of a lifelong love for comics.
"My fondest memories were going to the local comic book store," he said. "For a few dollars, I could check out someone else's thought process."
The intense battle between Wolverine and Silver Samurai glued to the bright red cover captured Sinnott's young imagination.
"I was so captivated by the cover art that I wanted to know more," he said. From there, he spent time spinning spindles at local stores and eagerly awaited the next surprise delivery of comic books his mother ordered from a Sears catalog.
By the time Sinnott was a teenager – he was already around 6ft 4in tall – the gentle giant earned the nickname Ogre. He has remained since, except for a short time in his twenties when he passed by Justin.
"People were always calling my house and asking for Ogre," he said. "But my love for comics never changed."
Now the Milton resident is ready to nurture the next generation of comic book enthusiasts at Ogre's Grove, a new comic book shop opening on Union Street during Milton's Zombie Fest on Saturday, October 21.
Ogre's Grove is more than just a comic, he said.
"The concept is the wine and cheese art exhibit for comic books," he said. "Part art gallery, part comic book shop, with a bit of nostalgia and a bit of the future."
Characters like Batman, Wonder Woman and Dr. Strange offer an escape from reality, while revealing universal stories of life and heroism that can educate any age reader, he said.
"Some of the toughest issues in culture have been dealt with in the comics," Sinnott said. "It's one of the most wonderful forms of expression. It is the definitive American art.
The storefront is also part of Sinnott's home, which he shares with his wife, Kristin, an artist and graphic designer at the Cape Gazette.
Also an 80s kid, Kristin Sinnott grew up with Jem and the Holograms, Rainbow Brite and other colorful cartoons that remained a passion as she studied graphic design and developed her own colored pencil designs.
After living in Shipbuilder's Village since 2004, the couple recently purchased a turn-of-the-century home next to the Milton Public Library, with dreams of moving their online store into a brick-and-mortar space.
Sinnott said the historic house at 129 Union Street was Milton's first millinery, later becoming split-level apartments and housing the town's first switchboard operator.
"This property presented itself as an opportunity," he said. "#KeepMiltonWeird. I like that the theater works with us. I love that every company I've approached or spoken to has agreed to do business with us. It's something refreshing. This is Americana at its best.
At Ogre's Grove, comic book fans can find everything from latest edition subscriptions to older collectibles, such as 1964's Avengers #1, which Sinnott calls his piece de resistance.
While most comics will cost around $3, discounts are available for loyal customers and subscribers, as well as a 10% discount for students, veterans, military, and first responders. Pieces like Sinnott's famous Avengers comic book from the early 1960s would be on sale for the right price, Sinnott said.
"I need my clientele to tell me what they want," he said, adding that subscriptions would be a big part of what Ogre's Grove has to offer. "And you can always barter with the Ogre."
The store will also feature Kristin's work, as well as handmade jewelry by Kristin's mother, Annette Cornell. Bartering with Kristin won't work as well, she laughed. Better wait days for the Ogre to run the shop.
"I am the Ogre, but this is the grove," Sinnott said. "That's what I cultivate. I want people to have memories, to be like me and to be able to say, "I remember when I bought this comic here. I want it out in the world.