When you're a comic book store in level 4 lockdown, London and the South East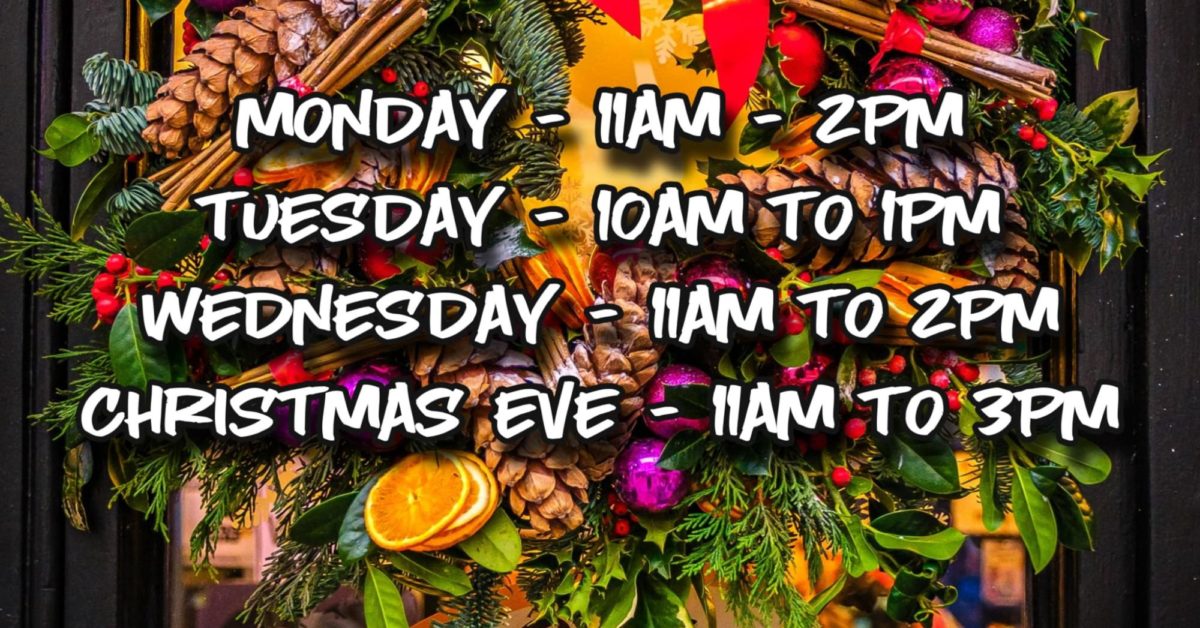 London and the South East of England have moved to Level 4 lockdown. Here's how several comic book stores have said they will deal with the current situation.
Level four Forbidden Planet stores – London and Croydon – are closed again, but they are once again offering a Call And Collect service.
Please call the branch between 10:00 a.m. and 4:30 p.m. and place your order. You will be able to reserve a 15-minute collection slot – be sure to be on time. Your order will be waiting for you at the store door at the location assigned to you. We ask customers to wear a face covering and we can only accept credit and debit card payments. Please follow government advice and stay local – do not enter the level four area for shopping.
Gosh Comics from London, States;
Yes, as you probably know, much of the Southeast is now under Level 4 restrictions (actually the same as the lockdown we had in November). This means that our store is closed for at least the next two weeks. That being said, someone will be on hand during this time Monday to Friday 9:30 am to 5 pm (except 25, 26 and 1), so you can support us (and get your dose of comics) in the way. next :

Buy from our online store: goshlondon.com. We will continue to ship orders daily and have almost all of our GN & TPB stock in our online store.

Call to arrange mail out of your standing order. The comics will still ship this week, then every week starting Jan. 6, and will be filed for customers on standing order. Clearing your standing order will help us pay the bills a lot.

Buy books through https://uk.bookshop.org/shop/goshlondon. Make goshlondon.com your first stop for graphic novels, but if you can't find it there, or want to order something else from cookbooks to potboiler thrillers, do so through our bookshop launch page. .org and we'll get a share of the revenue from the sale.

If you are ordering from the online store or would like to receive your standing order, you can also arrange to pick up at the door if – and we can't stress this enough – it is safe to walk into the store. Call or email ahead to arrange this.

These are tough times, but we've been here before and are better equipped to deal with them every time. Every little support we receive means a lot, so thank you all for helping us out.
Publication of Mega-City Comics;
LEVEL 4 LOCK
With London now entering Level 4, we will be closed for customers from tomorrow (December 20)
The store will always be busy, with hours to be determined, so you can pick up standing orders and pre-reserved orders. If you would like to do so, ideally please email us as soon as possible, with a preferred time, and we will let you know when you can come.
You will not be able to browse the store, but we will be happy to find you items and recommend gifts. We have plenty of stock on hand and can find you a perfect gift for just about EVERYBODY, comic book fan or not. We also carry GIFT VOUCHERS. Give us a try. While we'll try to respond to other contact methods, ideally, please try sending an email rather than phone or courier as it's easier for us to respond.
Mail order will still be published on Monday and new comics will still arrive on Tuesday for sale on Wednesday (subject to the pre-booked time slot described above)
We are already past the last Royal Mails publication day for 2nd class mail. If you want it displayed and there for Christmas, special delivery is always available.
Richmond Raygun Comics tweeted;
Under the new level 4 restrictions, Raygun will be closed to public navigation starting December 20. If you are in the area you can pick up orders or make requests at the store door, but please don't make unnecessary trips to Richmond. A staff member will remain on site to facilitate queries and pickup until December 24 and then again starting December 26. Please stay safe and remember to wear your mask when collecting on the doorstep.
Southsea House 237, Portsmouth tweeted;
As per the new level 4 rules, we will be closed from tomorrow morning, but will continue to offer pickup services as before. We are open for pick-ups, orders and deliveries. DM us for requests or more information. … Or at least until Boris has another "good idea" 🙁
Southend's Ace Comics said,
Due to new level 4 restrictions, Ace Comic books in Southend is now closed to the public until further notice. Our postal service is still functioning. Contact Ace Southend on 01702 338174 or use the contact form: https://acecomics.co.uk/contact-us/ Stay Safe!
Get Ready Comics of Rochester Released;
We weren't expecting to be closed or in lockdown, sorry for the delay! (You think we're used to this by now, don't we?) We'll be operating a click and collect service at the gate for the dates and times here! If you know you want something and it's not on our website, please let us know and we'll add it for you. Please stay safe, healthy and let's all try to make the most of this situation, we are stronger together – See you on the sidewalk!
Publication of Stevenage's limited edition comic;
Hello everyone. Hope everyone is doing well and safe.
We're going to be as optimistic as possible, reflecting on recent government decisions to put Hertfordshire to level 4, starting at midnight last night – but as you know this little shop and the heart of the comic book community and collectibles, is never defeated and we'll continue to keep you entertained throughout 2020 and into the New Year.
From today, Sunday December 20, the store is closed but we will be offering a collection service every day from 12 p.m. to 4 p.m. The last day will be the 24th at 3pm. Our courier is back up and running, so please message us for pickup and a time slot or ETA.
We will be posting new articles on all of our Facebook event pages as well as this page over the coming weeks. Shipments are still due to us from the United States, including POPS, Comics, and Hot Toys, and arrive throughout the week.
DHL: We now only use DHL for deliveries to customers with a flat rate of £ 5. The deadline is December 23 at 12 noon. This means that most of you will be receiving articles the next day from us… so keep an eye out for this page for those newcomers.
Our events pages will also continue to offer you a lot of interesting things. To register and get involved, check out the links on the website. We now have 4 Event Pages, bringing you the best variant covers, comics and back issues ranked by CGC, Funko Pops and now some hot NEW toys.
EVENTS: Our next event is tonight at 8 p.m. and we'll be featuring a great cover variation of Daredevil # 25 EXCLUSIVE USA. On December 27, we have a CGC event you can't miss; with many first appearances including THANOS and VENOM.
We thank you all for your great support over the past year, but all we ask is that you stay safe and healthy.
Take care.
The posts of the American Chatham store,
Just in… level 4 restrictions in London and other parts of England from tomorrow London, South East and East England will enter a new level of level four restrictions from tomorrow morning, said the Prime Minister.
These will be broadly equivalent to the national restrictions which were introduced in England in November. Residents of these areas should stay at home, with limited exceptions. Non-essential retail businesses (that's us!) And indoor gyms must close. People should work from home when they can and should not enter or exit level four zones. Community worship can continue. The restrictions will last for two weeks and will be reviewed on December 30. So on this 'Bombshell'… Have a safe Merry Christmas, be well, and I hope we will see you again in January!
And Crunch Comics in reading,
Coronavirus Level 4 Update | Open to click-and-collect
Yesterday's announcement by the UK government regarding the immediate Level 4 lockdown in South East England (including Reading) was devastating news for many of us for a variety of reasons.
The reality is that we, like many retailers, needed a busy Christmas to help make up for the lack of activity over the past 9 months.
Thank you all, for all your generous support during this terrible year of coronavirus, but this third "confinement" just before Christmas unfortunately put us on the verge of permanent closure.
Therefore, I am looking to run a click-and-collect service as Christmas approaches to grab something from the end of the year.
The service will be similar to the system we had during the November lockdown, i.e. customers can pay in advance by paying an electronic invoice for pre-ordered items and then stop by the store for pick them up at the door.
Appointments for these click-and-collect slots can be made on our Facebook page.
Click-and-collect meeting times:
Mon December 21: 11 a.m. to 2 p.m.
Tuesday December 22: 11 a.m. to 2 p.m.
Wednesday 23 December: 11 a.m. to 2 p.m.
Christmas Eve: 10 a.m. to 2 p.m.
Christmas Day to New Year's Day: closed
Sat January 02: from 11 a.m. to 2 p.m.
Sun 03 January: closed
Mon 04 January: closed
Tuesday 05 January: from 11 a.m. to 2 p.m.
We're still awaiting final delivery of the new comics on Tuesday, December 22, which will go on sale Wednesday, December 23.
I'll also be posting some photos of the graphic novels and collectibles we have in store on our Facebook page, for anyone interested in last minute Christmas gifts…
If you can't make it to the store this week, but you have recorded comics with us (or want something else from the store), we will continue to use our delivery service. Unfortunately, articles published now are unlikely to reach you in time for Christmas. However, this lockout period can last for a while – so you may need some additional reading …